"Berlin is a perfect location. Especially if you don't want to pursue just a single avenue of scientific work"
12.08.2019 | The literary scholar Dr. Betiel Wasihun was traveling for science. After stops in Heidelberg, Yale, and Oxford, it brought her to Berlin two years ago: Since then she has been IPODI Marie Curie Fellow at the Technische Universität Berlin. The program promotes outstanding young female scientists from various disciplines. We talked to the Brain City Berlin Ambassador about her life in Berlin - and her exciting research topic: Surveillance.
Dr. Wasihun you are currently on break between semesters. As an IPODI scholarship recipient, are you nevertheless working on your project?
At the moment I'm teaching at the Summer University of TU Berlin. That keeps me pretty busy. But as I'm offering a course in the field of my current research, teaching doesn't stop me from doing my actual research. Quite the opposite: It opens up new perspectives on the far-reaching field of "Surveillance Studies". The course I offer is called: "Surveillance Technologies and Cultural Transformation since 9/11." Like the entire program, it is aimed at students from all over the world.
What exactly does the course include?
We dealt with the "History of Surveillance" during the first week. Berlin is an ideal location for this. We visited the Stasi Museum, the DDR Museum, the German Spy Museum, and even the Stasi Documentation Archive Berlin. In a room there is an oversized file that you can walk into. This impressed the students in particular. During the second week I discussed theoretical concepts with them. Last week we went to a multimedia exhibition called "Überwachung und Repression in Ost und West" (Monitoring and Repression in East and West) in the former Hohenschönhausen Stasi prison. Via a walk-in aerial view, the students were able to get an idea of the extent of Stasi surveillance. The class will also be enriched by a range of guest speakers who speak on topics such as drones, algorithms, and the representation of surveillance in film and the visual arts.
Do only literary scholars take your course?
No, the students come from all disciplines. One participant is a social scientist, but many have a scientific background and are primarily interested in technological topics. The TU is a technical university, but it attaches great importance to building bridges between the technical and natural sciences on the one hand and the humanities on the other hand. At first glance, surveillance seems to be a purely technological issue. However, anyone who deals with the topic more intensively very quickly realises how pop culture, literature, and the arts have fundamentally determined and will continue to shape our understanding of surveillance.
How did you actually come to the topic of surveillance?
That almost came about on its own. I have been dealing with Franz Kafka since my dissertation. In addition, I am interested in big phenomena of human existence, such as shame and betrayal. You can imagine that if you start thinking about betrayal the topic of surveillance comes to mind quickly. In Kafka's novel "The Trial," the protagonist Josef K. is arrested in the most intimate of all rooms, the bedroom. And his neighbour sees it happen. In short: The setting of "The Trial" is a surveillance-setting. That's how I came upon the subject. And because – as the sociologist David Lyon aptly put it – we live in a "surveillance society" today.
To what extent does contemporary literature deal with this issue?
9/11 – both in terms of literary and cultural studies – is commonly understood as a caesura. The attack and the resulting terrorist events have led to the legitimisation of state surveillance worldwide. The important question in this context is: "How much surveillance is necessary – what is too much?" We should also question ourselves in the light of the generally liberal approach to social media. If we expose too much of ourselves online, what's left of what we call inwardness? The substance, the individual?
Are there German authors who have taken up the subject of surveillance?
A whole series: For example Juli Zeh in "Corpus Delicti," Ulrich Peltzer in "Teil der Lösung," Katharina Hacker in "Die Habenichtse," Marc-Uwe Kling in "Qualityland," and Sibylle Berg in her most recent book "GRM – Brainfuck."
As a German-Eritrean, I especially appreciate the cosmopolitanism that comes with internationalisation of the city. Berlin is unique in Germany in this respect.
And what about American contemporary literature?
Again, there are some interesting novels, such as Thomas Pynchon's "Bleeding Edge," Jonathan Franzen's "Purity," or Gary Shteyngart's "Super Sad True Love Story." However, a particularly much-discussed American "surveillance novel" of the present is Dave Eggers' "The Circle." The book borrows from George Orwell's "1984." It's about a company that resembles Google, eating up everything. The focus is on a young woman who becomes the figurehead of this company. Ultimately, she allows herself to be monitored by cameras 24 hours a day. She also has the appropriate audience for it. Transparency is the highest goal in the novel; privacy and any sense of shame are expected be abolished. There is no longer any substance. People become more an more shallow. The literary quality of Eggers' dystopian novel, which incidentally was also adapted into a film starring Emma Watson and Tom Hanks, may be disputed, but it can certainly be read as a thesis novel – in terms of what moves today's society.
Do German and American authors approach the topic of surveillance differently?
I actually noticed a difference: German novels such as Katharina Hacker's "Die Habenichtse" or Ulrich Peltzer's "Teil der Lösung" are told from different perspectives. You therefore have different views on what happens. These multi-stranded narratives suggest a departure from centralised narration - which can be read as criticism of centralised surveillance. In contemporary American literature, you are more likely to see a return to the authorial, omniscient narrator taking a central perspective. Maybe just to emphasize at the narrative level: Everything is being surveilled. Surveillance is criticised with its own means here.
Let's talk about you: What brought you to Berlin?
After my studies and my doctoral program, I researched and taught in Heidelberg and Yale in Oxford. After more than seven years, however, I was drawn back to Germany. I then applied to the IPODI Marie Curie Fellowship of the TU Berlin. That was a chance for me to come here. I have long found the city to be very attractive because it has become very international. In addition, there are a large number of institutions in cultural studies and the cultural scene is very strong. Berlin is now competing with the major cities of the world in terms of its offerings.
Have you already made contacts in Berlin?
I am slowly, but surely building up a good network here. Last weekend, for example, I was invited to an interdisciplinary symposium on media, technology, and subjectivity at the Kreuzberg Aquarium to give a lecture on "Shame in the Age of Digital Surveillance." And at the beginning of the year I helped to organise a workshop at the Leibniz Center for Literary and Cultural Research on "Surveillance: Fictions and Emotions." In addition, I'm a ProFil scholarship recipient and have the opportunity to meet scientists from various fields via this program. And in the meantime, I also know a few authors and artists in the city with whom I would like to initiate projects. Berlin is a perfect location. Especially if you don't want to pursue just a single avenue of scientific work and are instead interested in various things.
What do you personally like about Berlin?
Berlin still has a high quality of life. Even though rents have risen lately, they have not yet reached the levels you see in London. Berlin has become very international since the fall of the Wall. As a German-Eritrean, I especially appreciate the cosmopolitanism that comes with this internationalisation. Berlin is unique in Germany in this respect. Even though the political climate in Germany toward immigrants and refugees has changed a lot in recent years, the cosmopolitanism of the city is clearly noticeable in most Berlin districts. There's even always something exciting to do here with kids. There is a wide range of offerings.
Do you have tips for students that come to Berlin from abroad?
Of course, you're thrown in at the deep end at first. But the international offices of the universities are good contact points. In addition, it's very easy to socialise in Berlin with your fellow students. My special tip would be the Culture Trip platform. I also enjoy working in cafes. I was quickly able to find suitable addresses via this platform. One of these cafes is located near Friedrichstraße. Almost everyone speaks English there, even the employees. That's Berlin now, too.
What's your favourite place in Berlin?
For example, I like the Literaturhaus Berlin in City West. During the week in the mornings in particular you can relax and enjoy a coffee there in the garden and work in peace. It's really cosy near the fountain. (vdo)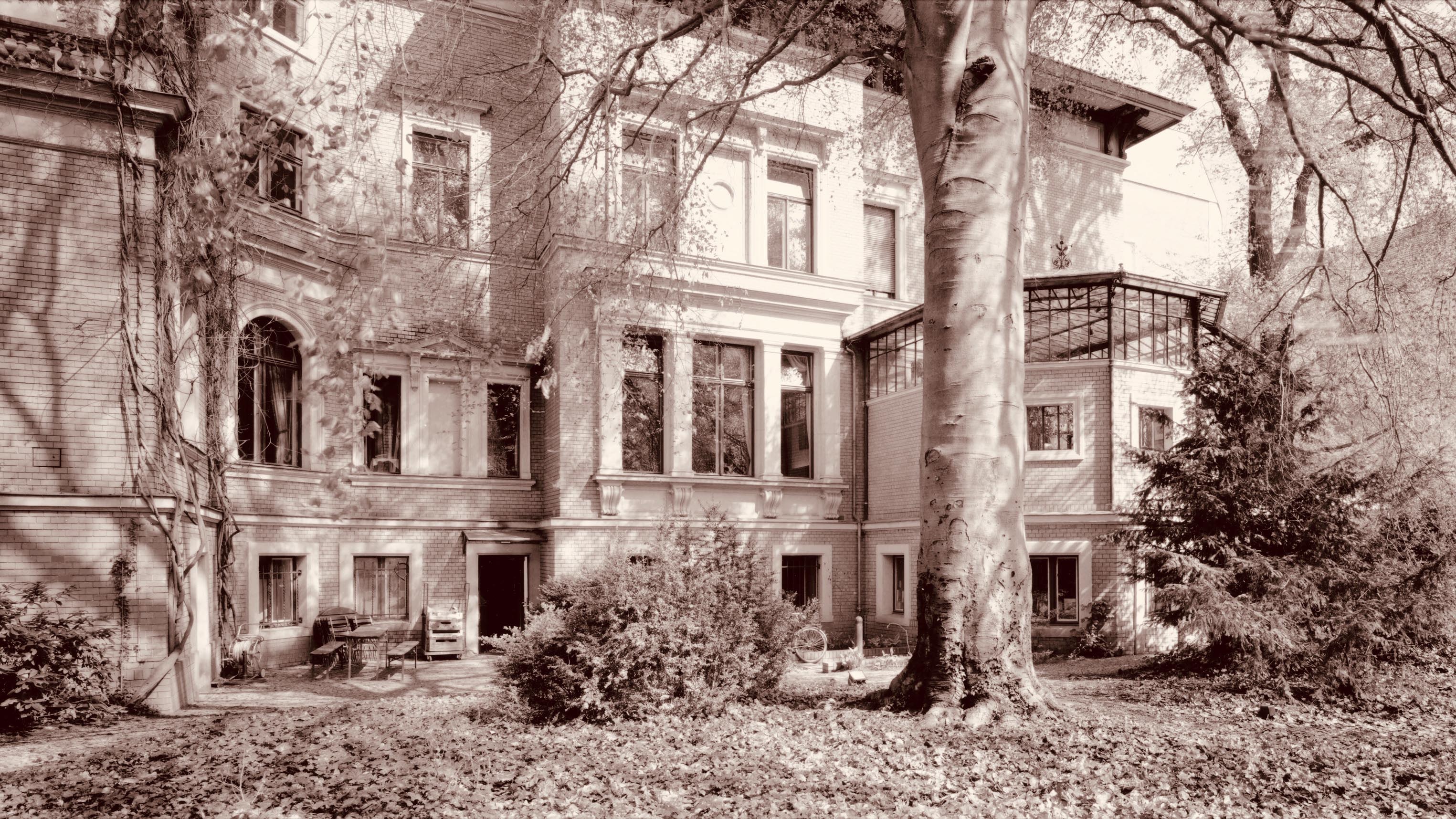 © Literaturhaus Berlin/A. Koehler