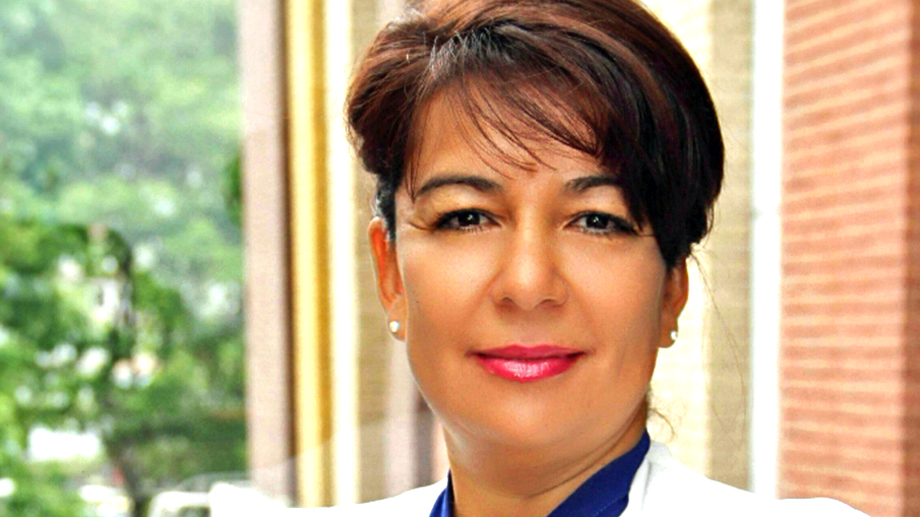 Brain City Berlin Ambassador: Dr. Hannia Bridg (Humboldt-Universität zu Berlin)
Dr. Hannia Bridg holds a PhD from the HU Berlin and has worked in the life science industry for many years. She currently supports academic and industrial groups from Latin America in promoting local solutions and opening up new markets for Germany.
Please describe your focus of research.
I grew up in Colombia and graduated from the Pontifical Xavierian University in Biology. I worked in Phytochemistry projects, designing and validating technical extraction processing from tropical and subtropical plants. My focus was the extraction of natural products and derivates, considered an important source of chemical novelty compounds for the development of new drugs.
I received my PhD degree from the Humboldt-Universität zu Berlin. After that, I went to the SunGene a BASF Plant Science Company and worked as a Laboratory Science Manager. The main interest of my laboratory was the analysis of signalling pathways focusing on the expression and differentiation of new plants. We worked with nucleic acid constructs, assembling vectors to promote its expression in transgenic plants. Several vitro cloning methods were tested to facilitate the construct expression ex vitro. After the quality testing, the new plants went into production for fine chemicals, for foodstuffs, animal feed, seeds and pharmaceuticals.

During my career, I have been exposed to various working international environments, focusing on production, marketing and sales. In addition, I have qualified myself in business economics and worked for the life science industry providing a solution to end-customers. I have also represented German companies such as Centogene AG in Latin America, where I opened the clinical genetic diagnostic market and established the brand with success, until nowadays. During that time, I have earned how to position a German life science product in Latin America. I have great knowledge on how to move scientific projects from the laboratory to the market, creating a business strategy and promote innovation.

I have a great passion for science and life science applications. I also have hands-on experience in the promotion and divulgation of projects that answer biological questions. I am convinced that academic and industry networking is important to find solutions. Thus, I am currently building the Bridg-Networking which is a German consultancy company that has its headquarters in Berlin. I am dedicated to creating communication opportunities for academic research and industrial groups based in Latin America and Germany. Furthermore, I like to help the biotechnology and life science groups to clarify the strategy when entering a new market and identify the obstacles when looking for an innovative partner. I strongly believe that new technologies and projects should be linked at an international level to create solutions and discover new values on a bilateral basis.
What cooperations does your research benefit from?
University and industrial research associates who are looking for cross border partners to advance in new implementations through collaboration, cooperation and coordination.
What is the most exciting aspect of your research?
Introducing biotech and life science academic and industrial groups from Latin America to Germany. Latin Amercia is a region rich in natural resources and biodiversity that has an invaluable and extensive potential for the discovery of innovative products and the development of new processes. The importance of science is growing in Latin America, new infrastructure is being implemented, universities and industrial research related groups are developing innovative programs and emphasizing experiential learning. I believe that new technology advances in Germany, in combination with the potential of science from Latin America, can foster solutions supporting bioeconomical developments and open new sustainable markets.
What do you like about living in Berlin?
I love that it is one of the capital cities in Europe, very international and safe. Berlin can offer the world in a fine package.
What advantages does Berlin offer compared to other science locations?
Berlin is international as well as open-minded and gives you a lot of opportunities from education to work. Science is everywhere and new companies develop. Research is linked to the market, leadership and quality are available on demand.
What is your advice to young people who are interested in studying in Berlin?
I would say, "go ahead!" Come with very good English, speak German (for foreigners) and be disciplined. Berlin offers an excellent platform that empowers people to realize their own professional dreams.
What kind of development do you wish for the Berlin sciences?
I hope that science in Berlin will be more active at an international level, projects should cross borders and reach Latin America. Science should bring countries together and develop industrial platforms to create novel working environments for scientists.
What kind of development would you like to see in the city?
Continue with the modernization and reactualization of the infrastructure.