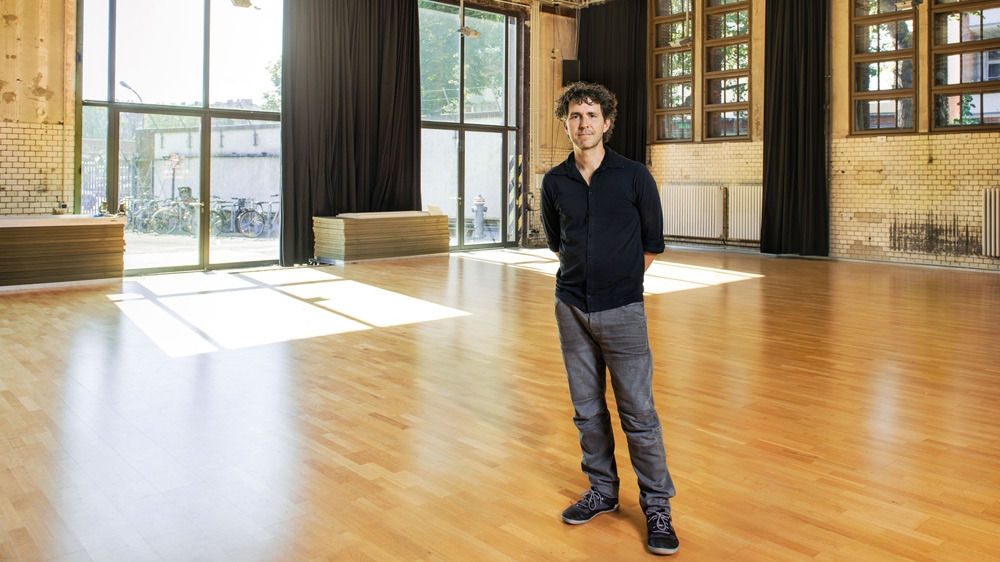 © Berlin Partner - Philipp Jester
Brain City Berlin Ambassador: Prof. Nik Haffner (Berlin University of the Arts)
Artistic Director of the Inter-University Center for Dance Berlin (HZT)
Professor Nik Haffner studied dance at the Frankfurt University of Music and Performing Arts and the Australian Ballet School in Melbourne. He came to work under choreographer William Forsythe as part of the Frankfurt Ballet as a dancer in 1994.
Ever since his cooperation on the 'Improvisation Technologies' CD, he has worked with the ZKM, or Center for Art and Media in Karlsruhe on a regular basis. As a freelance dancer and choreographer, he creates works for theatre, film and exhibitions. As a guest lecturer, he works for institutions including Trinity Laban Conservatoire of Music and Dance, PARTS in Brussels, and Ohio State University. He has been teaching at HZT Berlin since November 2008. In November 2012, he was appointed Artistic Director of HZT Berlin.
In 2014, Berlin University of the Arts founded the Postgraduate Forum (PGF), which has been known as the Berlin Centre for Advanced Studies in Arts and Sciences (BAS) since October 2016 as a response to the high level of international interest. What is the story here? What is the aim of this institution?
Artists and scientists work in close proximity at cross-disciplinary institutions such as the Berlin University of the Arts, and they frequently work together. BAS was founded to take advantage of the close proximity between art and science. The aim is to use internal and external exchange and cooperation – including at international level – to develop new, innovative formats that intensify dialogue and cooperation between the arts and sciences.
How does cooperation with other universities in Berlin work? Which projects are you currently working on?
Cooperation between the Berlin universities is working very well and is highly versatile. This applies to art colleges too. An interdisciplinary project we started working on in autumn is Einsteinzirkel. Using the title 'bod-y-motion', artists and scientists from a range of Berlin universities and other scientific institutions are investigating the role of physical and emotional elements in artistic and scientific work. The project is being funded by the Einstein Foundation in Berlin.
Few German cities are home to as many artists as Berlin. Do you see that as competition or simply coincidence?
It is true that there are plenty of artists living in Berlin, but I never saw this as competition. Quite the opposite, actually. The fact that there are so many artists living in Berlin creates a special discourse that enables them to discuss their themes and concepts with one another and exchange ideas. This is what makes Berlin so special as an artistic location. It isn't simply a production location for artistic projects; it's also a space for discourse. I think that's exactly why so many artists live in Berlin, although they very often work elsewhere.
What makes an artistic education in Berlin so interesting?
Artistic education in Berlin is exciting because you gain access to a wide variety of potential cooperation partners. At the HZT, we are blessed with being able to have a consistent dialogue with the independent scene in Berlin, which is highly active and dynamic. In this sense, all arts colleges take advantage of the city's extremely active artistic scene, not least because they are working in the city.
What was your main reason for coming to Berlin? What attracted you to the city?
I must confess, I was initially a little awestruck by the sheer size of it. I'd previously only ever lived and worked in cities or towns where everything could be reached on foot, and I'd enjoyed that. But I attracted by the broad, highly diverse artistic scene and the pronounced interdisciplinary dialogue between various artistic disciplines.
What historical impulses can still be felt by artists in the city today? How did the fall of the Berlin Wall influence your art?
The fall of the Berlin Wall turned the city into a place of potential and stimulated the artistic scene. That's still the case today. I work on many projects with artists who experienced the division of the city first hand, and this shines through in their work. This will no longer be the case for generations to come, which is why it is important to involve this historical memory in an artistic context.
What are some new, ´inspiring stimuli that can only be experienced in Berlin?
Berlin is a young city in a rapid state of flux. I have often described Berlin as something unfinished, and it is this unfinished element which is highly exciting in an artistic sense. For that reason, I hope Berlin stays in touch with this temporary character. Open spaces are highly important for the creative and artistic scene.
What, in your opinion, is the most exciting place in Berlin?
I wouldn't say there's a particular area I find the most exciting – it's more the fact that there are always new places to discover. For example, this year I explored the historic Wind Tunnel in Adlershof. This is an incredibly impressive technical monument where aerodynamic research was performed to test the flow behaviour of large aircraft parts. Just as large is the ring-shaped tube system available to view today. I also enjoy going to places like Kino International cinema, as I find both the building and the film listings exciting.