Prof. Dr. Manfred Hild
Berlin University of Applied Sciences and Technology
© Beuth Hochschule für Technik Berlin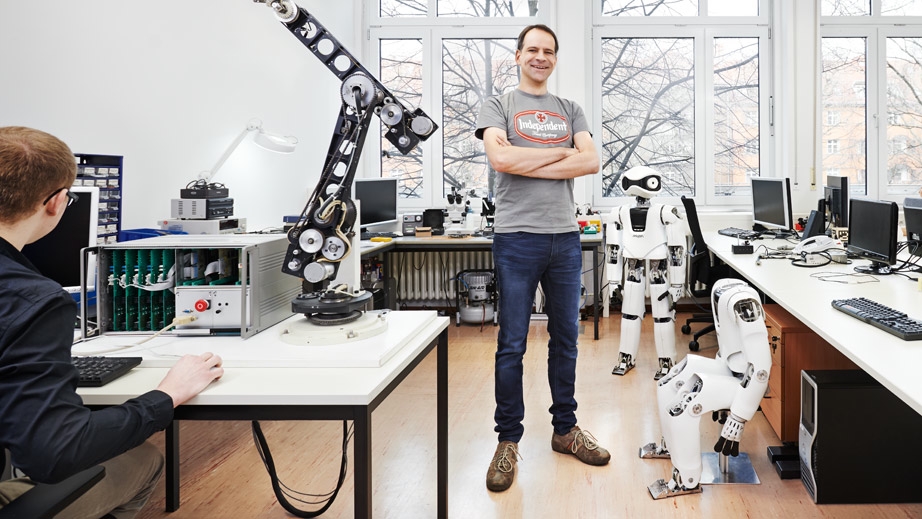 © Berlin Partner - Philipp Jester
Brain City Berlin Ambassador: Prof. Dr. Manfred Hild (Berlin University of Applied Sciences)
Neurorobotics Research Laboratory
"What we used to call flying machines are now called robots", says professor for digital systems Manfred Hild, who was talking about the societal changes that are being spurned on by the research work at Berlin university of applied sciences in Berlin-Wedding. The mathematician explains in the following interview why Berlin is the ideal location for his research.
How will society be changed by the robots that you are working on at Berlin university of applied sciences?
Hild: We will be surrounded by robots in the long run. And for some of us, that'll mean training and educating robots. It's going to be important to integrate robots into a social and societal context and to educate them.
In what direction is your research going?
The next big event will soon be upon us: robots are actually going to be able to learn. And this will be clear when people come into contact and communicate with them. It will be as if extra-terrestrial intelligence has come.
What fascinates you about your work?
In our field, the research is only just beginning. This is because the technological improvements of the last ten years are now permitting us to move forward. The flying machines of the past, which are now something we take for granted – are for us today artificial intelligence and robotics.
Why is Berlin a good place for researching artificial intelligence?
Berlin is a good location for many research fields. In robotics, one must think holistically – it's not just about technology, mathematics and psychology, it's also about political discourse and art.
Why does robotics need art?
For societal contact with the issue. We had a project with the Komische Oper whereby we presented the robot on stage in front of a large audience. That worked out well. It often happens that artists in Berlin interpret research results artistically. And that's only possible because the living costs are low.
What does this mean for the intermesh of science and business?
Companies benefit because they get cheap labs out of it. We at the Berlin university of applied sciences have excellent links with companies. Some of the firms that we enjoy great collaboration with, such as Pi4 Robotics, provide robot systems to the industrial sector. In addition, the intermesh of research and teaching is perfect at our university because I can bring the robots into the lectures – and the courses have just 30 to 50 students, not 800.