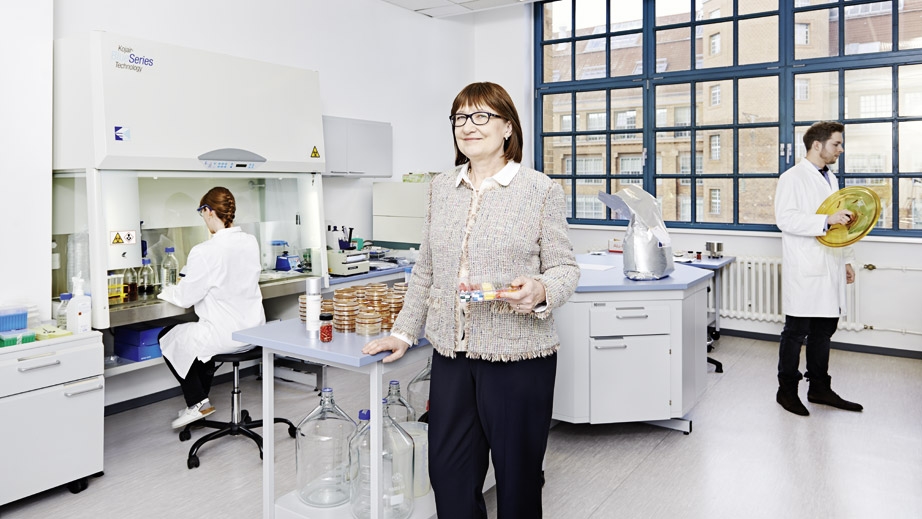 © Berlin Partner | Philipp Jester
Brain City Berlin Ambassador: Prof. Christine Lang (Entrepreneur and Professor at the Technische Universität Berlin)
She's able to extract valuable substances from tiny microorganisms that help improve the quality of food, medicine or cosmetics. Prof. Christine Lang is a professor at the Technische Universität Berlin, shareholder of the Belano Medical AG, management consultant for various companies and head of the MBCC Group. She explains how she created a successful business after doing her doctorate in biology while also continuing her research.
How did you go from being Dr. Lang to your current role as both professor and researching entrepreneur?
The Chemische Werke Hüls had commissioned me to set up and manage a laboratory for microbiology research after graduation in Berlin. After ten years of working for the chemical industry I switched to the Technische Universität Berlin, qualified as a professor, headed a working group and established my own company in 2001. The combination of entrepreneurial and scientific work is really important to me.
How did you manage to get by without venture capital after founding the company?
We had earned money with services, and I had a strong network. I also knew many companies and institutes through my work in the industry and at the university. This network has helped us to quickly implement the first cooperation projects with renowned companies and corporations after Organobalance was established. We have a large collection of microorganisms and know how to find the diamonds and pearls in them, and that was interesting for many.
What do you do with these valuable microorganisms?
We offer them to external companies. If they need an active ingredient, for example, for a new kind of yoghurt, dental care or cosmetics, we are the ones who can develop it thanks to our collection. This is how we had set up the company in the early years and helped it become larger.
How do you perceive the relationship and interplay between business and science here in Berlin?
Industry and science need each another. Germany in general and Berlin in particular can only be economically successful if they promote science and technologies of the future – and not just in IT, but also in modern engineering and life sciences. The economy constantly needs new scientific ideas to develop innovations, whether it be in established companies or start-ups. Here, of course, the numerous research facilities which are not affiliated with a university play an important role. "Brain" in Berlin couldn't exist to the extent it does without the Max Planck, Fraunhofer, Leibniz and Helmholtz institutes.
What makes the universities in Berlin stand out?
Through outstanding research in a variety of disciplines. The top-notch universities provide students with an excellent education on the one hand. On the other hand, the companies offer students and graduates the opportunity to gain work experience and the chance to work at an exciting job and turn their ideas into marketable products. So this is interesting for both sides. Since Berlin is very attractive for bright scientists, there are excellent chances of finding the right people.