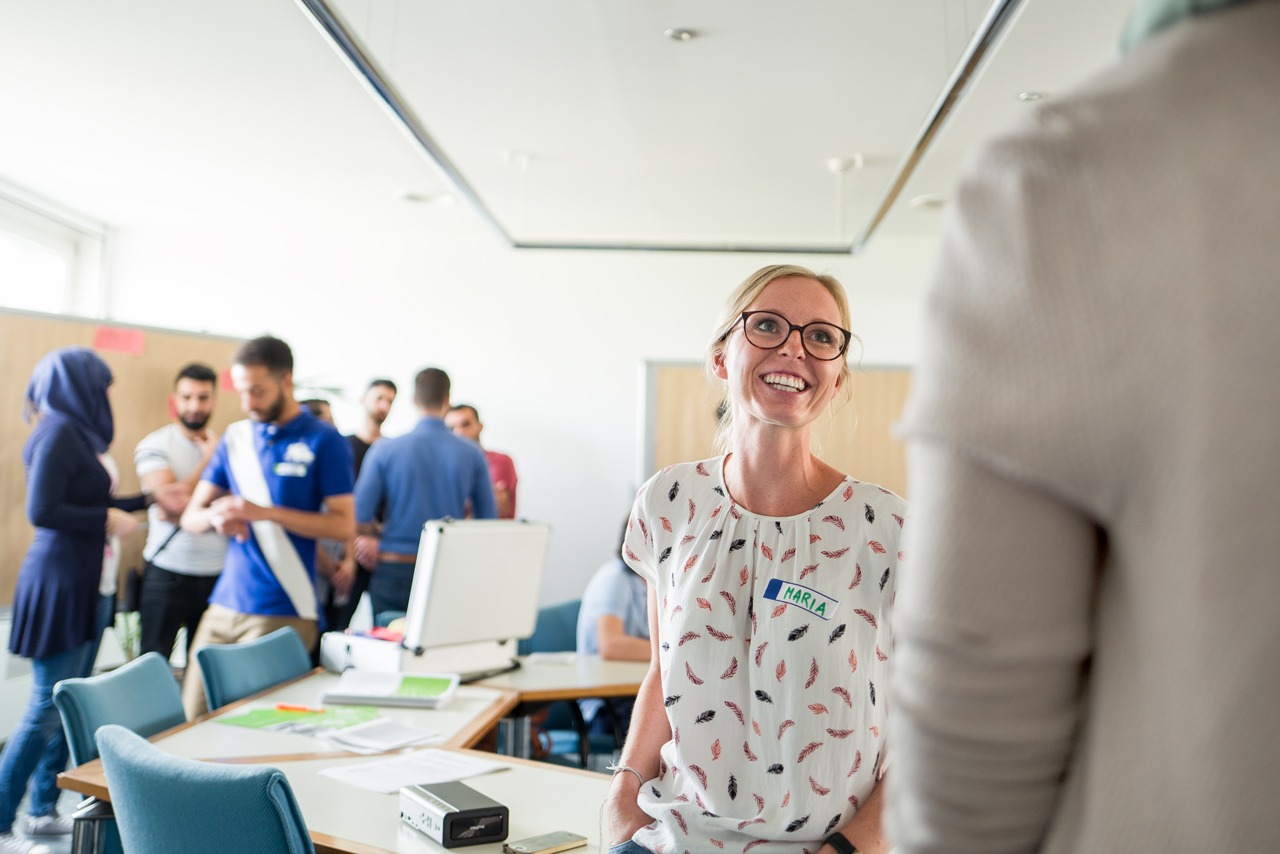 © Dennis Meier-Schindler/ HTW Berlin
Brain City Berlin-Ambassador: Maria Anne Schmidt (HTW University of Applied Sciences Berlin)
Maria Anne Schmidt is referent to the Vice President for Research and Transfer at HTW Berlin University of Applied Sciences. In her research, she addresses questions concerning the social and sustainable responsibility of universities and, among other things, investigates the integration of refugees into the German research landscape.

New methods of communication and innovative forms of cooperation with various stakeholders in politics, business, and society as a whole play an important role here.
Ms. Schmidt, how would you describe your research focus?
I research topics that promote social cohesion at the interface between internationality, sustainability, and scientific policy.

What is the most exciting aspect of your research?
The exchange with colleagues from various research disciplines. This often leads to new ideas that push me, my research, and social cohesion.

What do you like about life in Berlin?
Experiencing a city in a constant state of change that also offers good conditions for research and life in general.

Which partnerships do help your research?
I love Berlin's openness: everything's possible. Coincidental encounters can quickly lead to joint projects: a conversation at a neighborhood bar can turn into a new research project, a short encounter at a conference can lay the basis for long-term collaboration, and discussions with associations can lead to new forms of cooperation between academia and the wider society. The ways that science, business, and politics cooperate here are just as diverse as the city itself.

What are the advantages of Berlin over other research locations?
In Berlin you have the opportunity to meet new people, discover new research topics, enter into new partnerships, and expand your own horizons every day. In the current political situation, science should be leading by example, promoting openness, diversity, sustainability and democracy! In Berlin, these opportunities create freedom for science.

Do you have any recommendations for young people interested in studying in Berlin?

Young people studying in Berlin should make use of the city's outstanding infrastructure: visit the museums, go to events and concerts, initiate interdisciplinary projects, and work on your own projects across professional and university boundaries. Enjoy the chance to meet new people and embrace the diversity of the city.

What developments would you like to see in the city?
The changes in Berlin demand a lot from people. Science can support the city, expand cooperation through new formats, and make Berlin even more livable: we can only achieve this by working together! Projects such as CityLab Berlin offer excellent opportunities for opening up and exchanging ideas with other Berliners.

What message would you like to send to Brain City Berlin?
Innovative, interdisciplinary, and cosmopolitan: this is what science in Berlin is all about. It's such good fortune to get to be here!