Dr. Tatiana Korotkova
Campus Berlin-Buch (now: University of Cologne)
© Berlin Partner | FritschFoto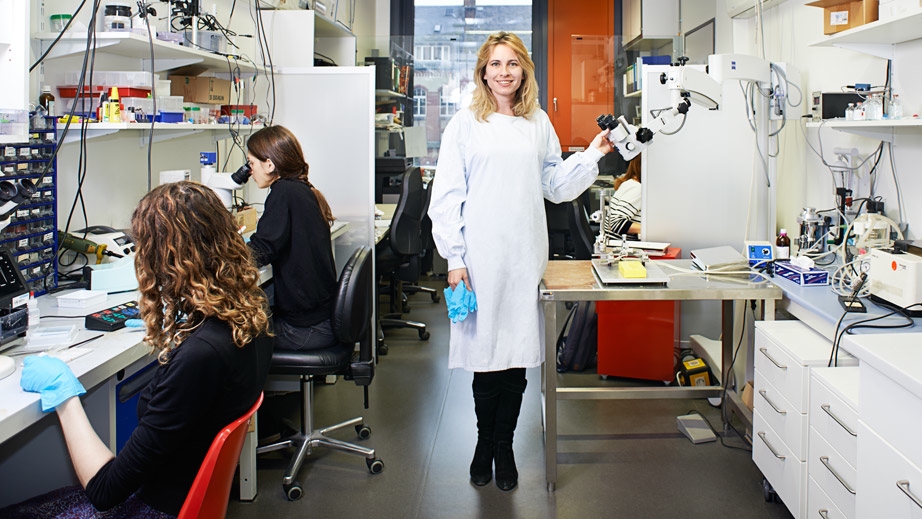 © Berlin Partner - Philipp Jester
Brain City Berlin Ambassador: Dr. Tatiana Korotkova (Leibniz Institute for Molecular Pharmacology (FMP), Campus Berlin-Buch)
Behavioral Neurodynamics
She studied in Moscow, completed her PhD in Düsseldorf and worked as a postdoctoral fellow in Heidelberg. At the Leibniz Institut for Molecular Pharmacology and the NeuroCure Cluster of Excellence at Charité in Berlin, Tatiana Korotkova now undertakes research into innate behaviours such as sleeping, eating and running.
Why did you decide to move from Heidelberg to Berlin?
Primarily because of the job prospects. Berlin is currently the best place for neuroscientists to undertake their research. Lots of leading researchers have moved here, resulting in excellent collaboration opportunities.
Had you already visited the city before you moved?
Yes, I often visited as a tourist. I'd always loved Berlin and could see myself living here. I can highly recommend a move to Berlin for any scientist, on account of its excellent and unique research atmosphere.
How did you become a neuroscientist of all things?
I trained dogs as a child and was fascinated by how different brains can learn certain behaviour. I then decided to study biology. And in the initial lectures, I soon discovered that neuroscience was the most exciting sub-discipline.
What are you researching in your project?
I'm interested in pathologies that can lead to different and widespread sleeping and eating disorders. A major breakthrough is currently underway: thanks to a new technology, so-called optogenetics, we can identify and control neural circuits using light, allowing us to decipher the malfunctions of certain neurones in different pathologies for the first time.
Do you also teach?
Very often and with great pleasure. I teach medical neuroscience, a highly specialised course that attracts hundreds of applicants for just 20 places every year. We take only the best and most motivated students. I also support three PhD students. I particularly enjoy this work, because we learn a lot from each other.