Brain City Ambassador organizes Falling Walls Lab in Tunis – Interview with Dr. Sana Amairi Pyka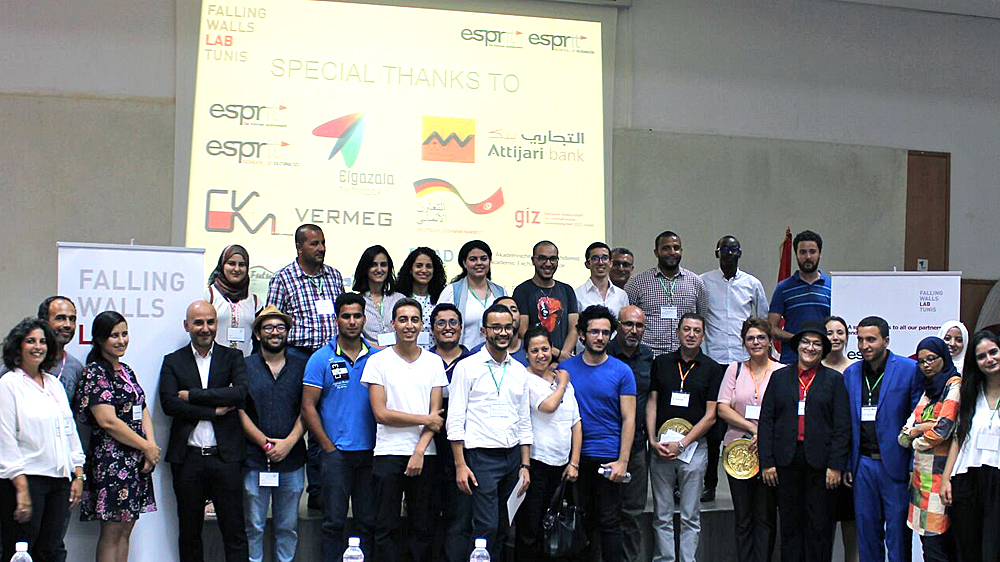 © Dr. Sana Amairi Pyka | Falling Walls Lab Tunis
Brain City Berlin: Dr. Pyka, as an ambassador for Brain City Berlin, how did you come to organize the 2018 Falling Walls Lab in Tunis?
Dr. Sana Amairi Pyka: In September 2017, I helped to organize the Falling Walls Lab at Adlershof. During this successful and very inspiring event, I felt an urgent need to give young innovators in Tunisia the same opportunity to share brilliant ideas in various fields. So, I decided at the spur of the moment to give my business card to a member of Falling Walls Foundation who was present that day, with a written question on it: "Falling Walls Lab Tunis?". He introduced me to Naveed Syed, Project Lead of the Falling Walls Lab International at Falling Walls Foundation, and that's how things started. Naveed was very open to the idea and helped me with everything I needed to create a Falling Walls Lab in Tunis.
The hard part was announcing the event in Tunisia. Many national universities didn't have the necessary support for it. The fact that the event was going to be held in English was an issue as well, since Tunisia is a francophone country. So, I decided to contact a very inspiring Tunisian scientist, Prof. Zohra Ben Lakhdar, winner of the L'Oréal-UNESCO Award for Women in Science 2005 (among other national and international awards), and director of a private Tunisian university called ESPRIT (Private Higher School of Engineering and Technology). She gave me full support in organizing the event, including the necessary finances, the venue, and a fantastic organizing team that I would like to thank: Dr. Salah Bousbia, Mme Meriem Chichti, as well as the young amazing and helpful team from FUTURA club at ESPRIT.
Brain City Berlin: How successful was the Falling Walls Lab in Tunis?
Dr. Sana Amairi Pyka: The event was very successful. We selected 13 candidates out of 32 applications, including 9 females and 4 males. It's great to see the girls outnumber the boys in such a competition! All of them were wonderful young creators in various fields e.g. economy, biology, medicine, engineering and startups. Our jury, originally Tunisians with outstanding careers, also came from NASA, TU Chemnitz, Germany, Paris, France, and Tunisia. We had about 150 guests and 5 sponsors. During the event, representatives of the German Academic Exchange Service (DAAD) and the German Society for International Cooperation (GIZ) gave informative lectures on their activities in Tunisia. The winner was Kevin Loïc Kuissu Mbe from Cameroon, who studied engineering in Tunisia and won with his lecture "Breaking the Wall of Human Concentration Monitoring".
Brain City Berlin: Can you evaluate the importance of the event in Tunis?
Dr. Sana Amairi Pyka: Falling Walls Lab events are very important, because, unlike other competitions, the breakthrough factor is essential. This transforms the Lab into a powerful evaluation tool of how much the local competitors are aware of innovation and technological advancements in the world. It also informs us on how good the system is: does it encourage creativity? Do the smart, young scientists trust their ideas and do they have the tools to make them real? This is, in my point of view, an extremely important and necessary evaluation.
Brain City Berlin: What does it mean for you as a scientist from Berlin to be able to represent the Brain City internationally?
Dr. Sana Amairi Pyka: Falling Walls Lab Tunis was my first chance to represent the Brain City Berlin campaign internationally. I love Berlin. Berlin is a rich and diverse environment for scientific research institutions. It was an honor for me to represent my city the best I could, using all the great tools provided to me by the Berlin Partner for Business and Technology, initiator of the Brain City Berlin campaign.
Brain City Berlin: Will you be attending the Falling Walls Conference in Berlin?
Dr. Sana Amairi Pyka: I am very thankful to the Falling Walls Lab Foundation for offering me a free lab organizer ticket. So I will be attending Falling Walls Lab, Conference, and the Venture.
Media Coverage: The Falling Walls Lab in Tunis