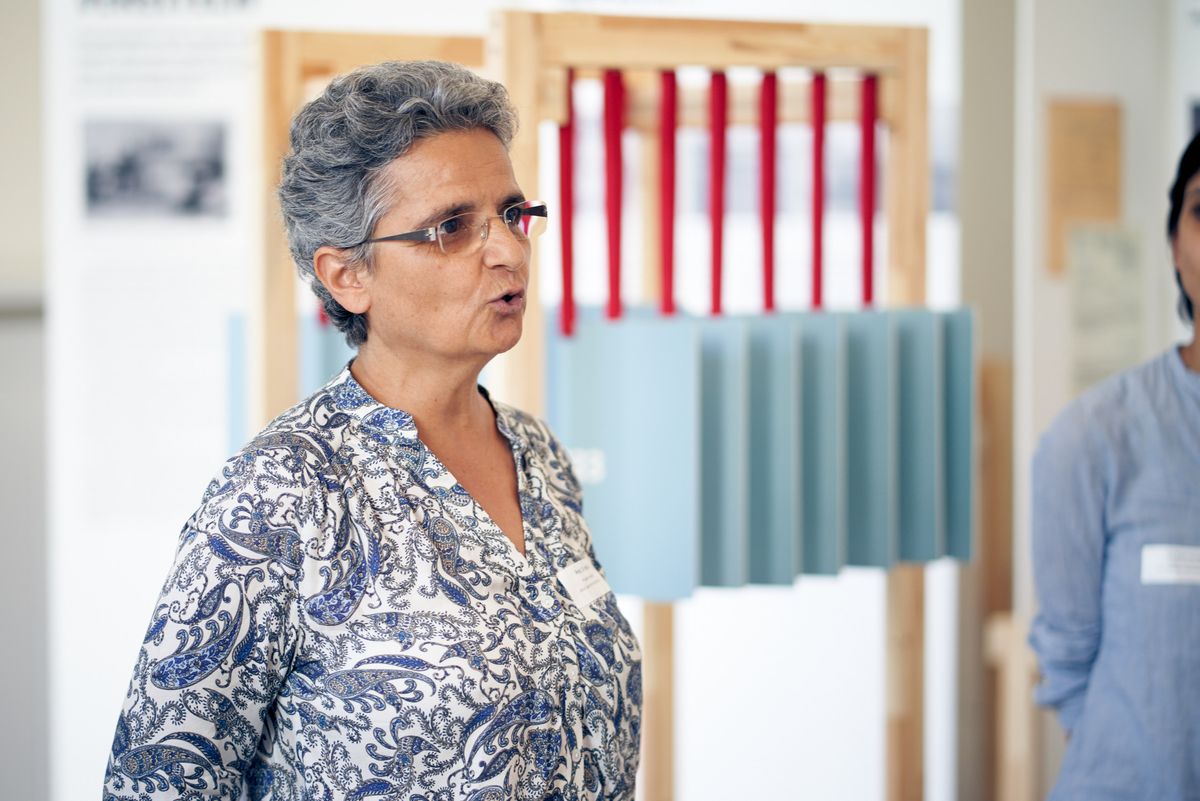 © IFAF Berlin/Christian Pérez
Brain City Berlin Ambassador: Prof. Dr. Iman Attia (ASH Berlin)
Professor Dr. Iman Attia teaches and researches Critical Diversity Studies at the ASH Berlin. Her focus is on racism and migration. Since the early 1990s, she has been dealing with (anti-Muslim) racism from a global historical, post- and decolonial, post-/nazistic, relational and intersectional perspective.
Brain City Berlin: Mrs. Attia, how would you describe your research focus?

Attia: Research on racism examines the contexts, forms, and effects of racism as well as the relationship and interweaving of different types of racism to one another and to other social power relations. It also focuses on the questioning of historical types of racism in current living conditions and patterns of interpretations. Furthermore, it reflects the contradictory and ambivalent entanglements of actors in racist structures and discourses, the different positions and perspectives of subjects, resisting voices and movements, and much more.
Brain City Berlin: What is the most exciting aspect of your research?

Attia: It is exciting to learn about the relationship between historical events, political decisions, cultural interpretations, and subjective positioning. Amongst others, the following questions arise in connection with racism research: How do colonialism and National Socialism continue to have an effect? Why is the Middle East conflict so emotionally charged in Germany? What are the consequences of social segregation for coexistence? How do people of colour deal with inclusion and exclusion? How about the avoidance of discourse of their narratives and perspectives? What happens when they become visible and are heard?
Brain City Berlin: What do you like about life in Berlin?
Attia: The presence and alliances of different communities of colour.
Brain City Berlin: Which partnerships do help your research?
Attia: Cooperation with activist researchers and research activists.
Brain City Berlin: What are the advantages of Berlin over other research locations?

Attia: Each location has its advantages: racism research in Berlin benefits from the diversity of social and civil rights movements and the small projects of people of colour with their different areas of focus. This means that academic knowledge production is met with relevant issues, can cooperate with committed actors, and the research results are useful.
Brain City Berlin: Do you have any recommendations for young people interested in studying in Berlin?

Attia: Newcomers to Berlin should plan their time before starting their studies in order to get involved in the city off the beaten tourist track and to let it have its effect on them. They should also try to find their niche from the wide range of universities, research institutions, and libraries where they'll find inspiration, but also leisure in order to be able to work well.
Brain City Berlin: What developments would you like to see in the city?

Attia: Shorter routes or better connection between the locations. A more easy-going atmosphere and less of the "Berliner Schnauze" attitude.
Brain City Berlin: What do you wish for the future of the sciences in Berlin?
Attia: Better facilities in particular at the universities (of applied sciences), in particular the right to award doctorates and the expansion of the non-professional teaching staff.
Brain City Berlin: What message would you like to send to Brain City Berlin?

Attia: The cooperation between different actors of knowledge production in research, civil rights movements, and activism is stimulating and enriching.