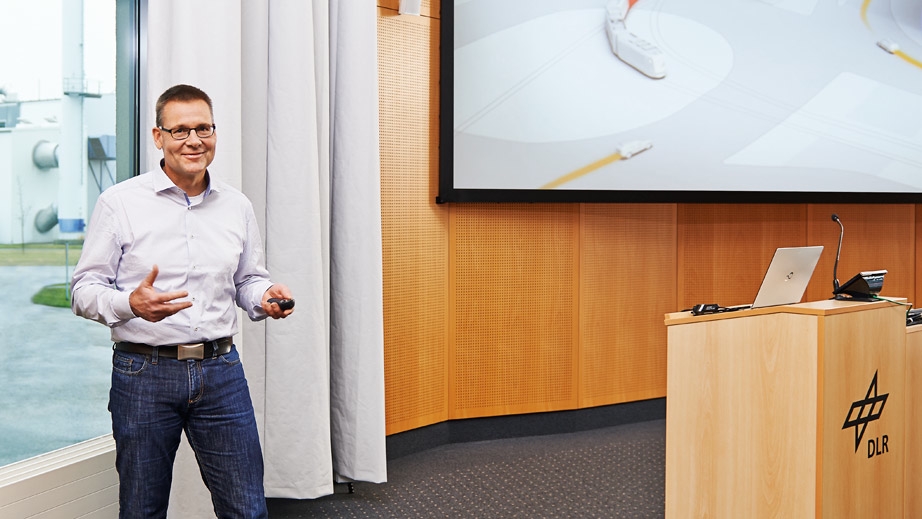 © Berlin Partner - Philipp Jester
Brain City Berlin Ambassador: Prof. Dr. Dirk Heinrichs (German Aerospace Center (DLR))
Mobility and Urban Development
Tokyo, Vienna, Santiago, and of course Berlin: Prof. Dirk Heinrichs, department head at the German Aerospace Center Institute of Transport Research, researches mobility trends in cities worldwide together with his colleagues. He explains the possibilities that urban and transport planning have to offer for the design of livable cities.
What is the focus of your research?
We are primarily interested in human mobility patterns and the reasons behind personal mobility decisions, for example when choosing a destination and mode of transport. Here in Berlin there are many mobility and transport options to choose from. So we are also analyzing the effects of the urban environment and its infrastructure.
What is the best place in Berlin to observe this?
At Alexanderplatz. I really enjoy spending time there, since it is easy to observe how people from the city come together and then go their separate ways among the various transport options in the area.
With your help, will we soon have fewer traffic jams in the city?
Yes, that is one of the objectives that we are pursuing. What possibilities are there for city transport to contribute to the achievement of societal and ecological goals? How can noise, particulate, and pollutant emissions be reduced? And how can people meet their mobility needs both effectively and economically? We analyze the possibilities that policy has for influencing the development of cities and their transportation infrastructure.
What roles do park & ride and ridesharing have in your work?
Increasing interconnectedness between mobility concepts and services available offers cities (larger cities in particular) the chance to make use of various modes of transport in a flexible and adaptable manner, allowing inhabitants to cover longer distances more quickly and easily. This provides alternatives to single-passenger motorized transport. We are also analyzing exciting developments in ridesharing, in terms of both offers and demand.
What makes Berlin stand out as a scientific center?
Above all, its highly international population of students and researchers. I am interested not only in phenomena and trends within Berlin, but also in worldwide comparison. In my seminars and lectures I speak with students from Africa, Asia, and Latin America. Students from Colombia, for example, have brought the interesting topic of urban aerial cableways to my attention in the past few years. A research project has even come out of this.
What do aerial cableways in Colombia have to do with urban development in Germany?
In Medellín, the second-largest city in the country, aerial cableways have become a perfectly normal form of transport. We are now analyzing the prospect of these modes of transport becoming an everyday part of the transport options offered in certain European cities.